Tudor Furniture
Tudor furniture is the term used to define the English furniture of the 16th century. The Tudor furniture was made of solid wood, and though decorated, the work was dependent rather on form than decorations.
The furniture of the period was made of European woods, oak, walnut, and elm. Oak was used plain and solid, or slightly inlaid with sycamore and yew.
The Tudor period style was a mixture of Gothic with Italian, Flemish, and French influences, especially early in the period (1509-1558). The linen-fold motif, introduced in England from France or Flanders in the 15th century, appeared together with Tudor details on chests, choir stalls, and footboards of beds. The acanthus was introduced from Italy, and also the cartouche and the guillouche, a strap ornament forming a succession of circles. There were also Italian furniture forms and terminal shapes. After 1536 the coarser German and Flemish furniture features became more common together with the Italian ones.
Furniture decorations
Overall, the main Tudor style decoration was the fine carving, sometimes with sycamore inlay.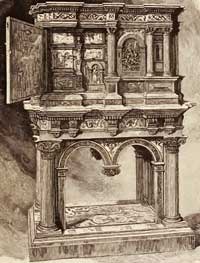 Tudor Style Cabinet
The panels of pieces like chests, cabinets, or beds, were decorated using a variety of biblical or mythological subjects. The square panels could have superimposed diamond shapes. Round-headed arches and the semi-circular or fan pattern were used. Animal forms like the dolphin or the lion head were used, together with floral forms like the Tudor rose, carnation, or vine.
Typical Tudor pieces
A Court cupboard was a style of buffet made from the time of Elizabeth to that of Charles II. Some models had the two sides angled off, to leave display space for pieces of silver. Handles and hinges were generally made of iron.
The Tudor period chairs, still rare, were heavy, with straight backs and flat seats, with cushions of embroidered velvet. Latter in the period, high-backed carved chairs, and turned chairs were common, together with stools with ornamented backs.
The large Tudor style bed was the richest piece of furniture, with elaborated carving of the headboard, canopy, tester, columns, and panels. The most used subjects for columns' carving were religious, representing The Four Evangelists, and angels.
The Tudor furniture style took on a more distinctive character during the reign of Elizabeth, with less Gothic, and oak carving in high relief.