Elizabethan Furniture
The Elizabethan furniture is exhibiting a distinct character, and, with less Gothic feeling, is making strong attempts at originality. Works of French and Italian inspiration could still be identified, however, the Elizabethan furniture style was becoming more British.
The characteristic ornamentations of the Elizabethan period furniture are carved human figures or medallions, masks, fruits, floral and chimerical animal forms, strap-work, bulbs, arabesques, nail-heads and gadroons. Sometimes the linen-fold, or tracery of the old style, accompanies the medallions of the new on the same piece of furniture.
As a rule, the carving is not so delicate as the contemporary French or Italian styles. Oak still predominates, but walnut is more common and marquetry of native and foreign woods is in great favor. The principal woods used in inlaying were walnut, ebony, rosewood, pear, cherry, yew, apple, ash, box, and holly. Pear-wood was often stained black to imitate ebony.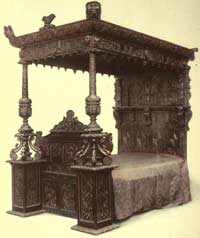 Elizabethan Bedstead, oak, 1593
The carving of the Elizabethan period style introduced the heraldic motifs. The backs of the chairs, the panels of cupboards and chests, were decorated with diamond shaped ornaments, or floral and fruits motifs.
Elaborate cabinets could also have arched panels in the folding doors, carved in high relief, sometimes displaying battle scenes. On table legs, bed-posts, and cupboard supports, bulb or melon forms were used.
Turned work became popular, while scroll work carved in low relief started to replace the linen-fold.
Elizabethan chairs, while still scarce, were showing a high variety of forms. There were Italian style curule chairs, armchairs with turned work, and the carved wainscot chairs, heavy, with a straight back. Turned work and carving were also used in the making of the joint stools.
When compared with the trestle tables of the preceding period, the Elizabethan furniture tables were more ornamented, longer, with heavy legs of baluster form, often with a bulb carving at half length of the leg. Close to the floor, legs were joined by heavy rails.
Cupboards became more common, the styles verging upon the court and press cupboards of the Jacobean style. There were many forms of chests.
The massive canopied four-post bedsteads were the most beloved pieces of furniture.
Carving in the Elizabethan furniture style became more ambitious, as illustrated by four-post beds canopies. The costumes and faces of figures or busts gave them a specific character, making the Elizabethan period style distinct from the other contemporary European furniture styles.