German Furniture
Gothic Period Furniture
Many examples of late Gothic German furniture survived, with the Protestant North preserving a strong Gothic character by the end of the 15th century.
Cupboards had carved panels with the linen-fold motif or carved figures. Canopied, carved honor chairs were decorated with exquisite Gothic motifs, and had a marche-pied (footboard), to enhance the appearance of the high ranking person. For comfortable seating, cushions were used.
Typical Gothic ornaments like the tracery, trefoil, quatre-foil, were used for decoration of beds, or other pieces like the Gothic press (Schrank). The Schrank was a type of wardrobe, used by the mistress of the house to store fine linen and silverware. The same type of furniture could also be found in the church sacristy, where it was used to store ecclesiastical articles.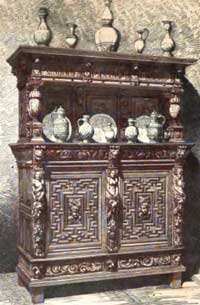 German Renaissance Sideboard
German Renaissance Furniture
The Renaissance style made its debut under the influence of Albrecht Dürer, reluctantly abandoning the Gothic in the 16th century, and following the Flemish carving principles, with free treatment of figure ornament, scrolls, enriched panels and mouldings. Renaissance took a strong hold first in the Southern catholic cities of Augsburg and Nuremberg.
The main characteristics of the German style were the realism and a fondness for minute detail. Many of the German cabinets were richly decorated with elements of architectural design, so that they looked like miniature palaces. They were characterised by carvings in ivory and silver ornamentations. An innovation was the introduction of amber plaques into the façades. Borrowed from Italy was the technique of decorating the façades with painting and gold-work on glass.
A famous German cabinet, made in ebony, was the work of Kellerthaler of Nuremberg, dated 1585. The most celebrated is the "Pomeranian Kunstschrank", in ebony, made in Augsburg by Philip Hainhofer, for Philip II, Duke of Pomerania. Decorated with ivory carvings, silver reliefs and enamelled plaques, it displayed the luxury of the Italian style, with the scrupulosity of the German work. Relatively small, the cabinet is supported on four silver-gilt griffins' heads, and a large scroll. Decorations included lapis-lazuli, jasper, agate, medallions of silver, and Limoges enamel. The drawers, made of sandal-wood, are lined with red morocco.
German cabinets were highly appreciated in Europe in the first years of the 17th century, and it was fashionable to own such pieces. Overall, they were copies of the Italian style, but what caused them to be held in such a high esteem was the perfect level of craftsmanship, that scrupulous carving, the precise execution of the smallest details.
Another remarkable specimen of Renaissance German furniture is the steel chair made by Thomas Rukers. It was presented by the city of Augsburg to the Emperor of Germany in 1577. It has the city arms at the back, and the decorative subjects representing historical events are showing the same care for almost perfect detail.