Île-de-France Armoire
The French armoire made in the Île-de-France has its own particularities. It was generally higher than it was long, while the armoires made in Burgundy and the Midi were characterized by their greater width.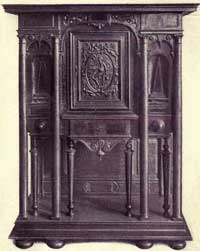 Île-de-France Armoire
Second Half of the 16th Century
The armoires of the Île-de-France are recognized by their architectural appearance. The slender upper part develops into a pyramid. It has two doors in the lower part and two doors in the upper part. The upper doors were flanked by small columns surrounded by vine or laurel leaves.
Influenced by the Île-de-France style, the pieces made in Normandy have their sculpture displaying the same characteristics as their pieces of inspiration, but enriched with incrustations of ebony, generally in relief.
The model of the Île-de-France armoire was imitated especially in Lyon, where large armoires "a deux corps" were made, sometimes called buffets. These armoires in two parts, or "cabinets a deux corps," were frequently lined with rich silk or brocade, fastened down with small nails.
The Lyonnais workmanship follows the traditions of the Île-de-France in its form and ornamentation. The panels usually represent religious subjects, like the Annunciation, the Nativity and the Adoration of the Magi.
In Languedoc, the armoires were made under the influence both of the Île-de-France and Burgundy styles.
The Burgundians also inspired the artists of the Midi. This resulted in the French pieces of furniture of the period showing the influence of various provinces and artists.