Jacobean Chairs
The Jacobean chairs were of a rectangular severity, in the general note of the Jacobean period proper. Their legs were perpendicular, the backs straight, and the seats flat. Although in greater variety, chairs were still uncommon, and reserved for persons of honor.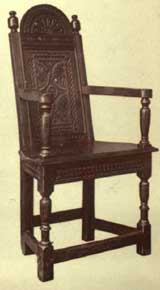 Jacobean Chair with Flat Armrests
Earlier Jacobean chairs had their armrests higher, and this can be used as a general rule to identify the period when the chair was executed. The armrest generally goes downwards from the back, and there was a concave curve in the middle, with a more or less emphasised curve on the lower side of the arm. There is often at the ends of the lower side-curve a very decided notch.
There were exceptions to the rule, and a particular chair, with straight, flat armrests is shown here. It has a fan-shaped semicircle at the top of its back, and heavy finials on its sides.
Other varieties of Jacobean style chairs were the turned chairs, and a lighter chair, of French design, introduced during the reign of Charles I, having the seat and the back covered with leather or embroidered. The wainscot-chair became lighter, sometimes with a pierced back.
In terms of decoration, the back panels of the Jacobean period chairs are often decorated with the round arch. Among other carvings ornamenting the back panel was a singular flower resembling the sunflower, the single or double guilloche, and a carved rose enclosed in a lozenge. The backs of the chairs were often inlaid with holly in geometrical or floral patterns.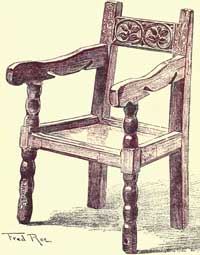 Jacobean Child Chair
Lighter types of chairs had a particular back construction, not panelled, but formed of two or three open arches, fitted with small turned, acorn shaped knobs or pendants.
One of the most typical of Jacobean chairs is the "low leather" chair. This was generally covered with leather fastened with large brass nails, and was sometimes decorated with fringes. A square straining-rail placed close to the floor usually connects the legs. The chair was known as "the Cromwell".
Another model is shown in the upper right illustration. Covered with velvet adorned with fringes and fastened with copper-gilt nails, it has its legs decorated with a large quatrefoil ornament.
Among the Jacobean chairs, child chairs were fairly numerous. An example, illustrated here, is having the summit of the uprights of the back displaying a rose surmounted by a crown, the incisions being inlaid with silver.